Archive for cleaner
Dishwashers work best with very hot water. Let the water at the kitchen sink run for a few moments until it's hot before turning on the dishwasher. This will bring hot water to the dishwasher faster.
To eliminate soap scum, mold, and bad odors wash your dishwasher every six months with a dishwasher cleaner. Put the dishwasher cleaner in the soap dispenser and run a cycle. In that one easy step, your dishes will be cleaner, and you will extend the life of your dishwasher.
Dishwasher Magic, dishwasher cleaner, 12 oz. Bottle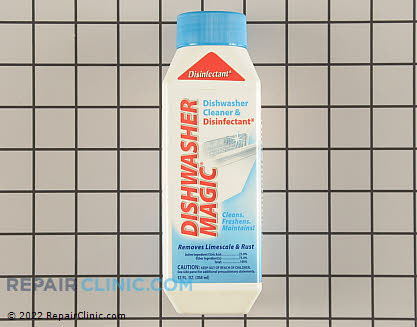 This is a great cleaner!
Get your dishwasher sparkling clean and lemon fresh. Removes built-up soap scum and discoloration due to iron and other water impurities. Also works great in washing machines, porcelain sinks and porcelain tubs. 3 ounce packet.
Glisten Dishwasher Cleaner and Deodorizer

Affresh HE Washer Cleaner Pack
Use once a month to keep your HE (high efficiency) washer clean and odor-free! 3 tablets per box.