Archive for drain pump
Rick helped a member in our Appliance Repair Forum on a newer style Maytag washer, model number MVWC200BW0, about taking apart the water drain pump to unclog it.
He uploaded two photos to show how to do it: Repair manual – need to unplug water pump
Drain Pump W10276397 Order now for same day shipping. 365 day return policy. RepairClinic.com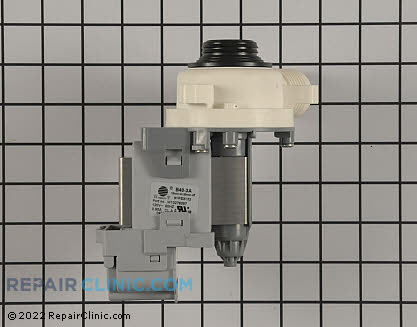 Jake
Whirlpool washer(model#LXR9245EQ0): Leaking water, removed the cabinet and found the water pump leaking water.
Here's the water pump for this model:
Manufacturer part number 3363394 is RepairClinic item number 3296

Sears Kenmore front-load washer(model#110.47532601): Making grinding sounds when the drain pump is running, found the drain pump impeller bearing bad, installed a new drain pump worked great!
Here's the drain pump for this model, The drain pump changes from part#8540024 to part#W10130913:
Manufacturer part number W10130913 is RepairClinic item number 1373005