Model Number

FPET3085KFB
Brand

Frigidaire
Age

6-10 years
Hope to help anyone trying to fix hidden element in Frigidaire or Electrolux oven. Oven slow to heat. Bottom element not working. Turned breaker OFF to the wall oven, Pulled oven out from wall removed rear panel resistance of lower element open circuited.
Element access is from bottom of oven, unscrewed and lifted top oven about 6 inches to pull out element, it had a visible break in element.
Element part number:
318601604 Element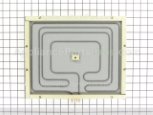 I got it and it worked fine, the element looked the same but the housing was slightly different. Had a hard time finding anything online about this so I hope this may help someone.