Over time the range stove top drip pans start looking dull or completely rusting out. Its a good idea to buy new ones when that happens.
Make your stove look new again. All drip pans and burners in our range/stove/oven accessories section are on sale now.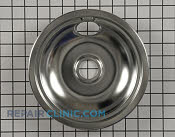 Have a good evening!
Area Forecast For: South Willamette Valley
…including cities of Eugene, Springfield, Corvallis
Issued: January 23, 2006 21:21:34 PST
Tonight: Mostly cloudy. Areas of locally dense fog with visibilities one quarter mile or less. Lows 30 to 35. North wind 10 mph.
Tuesday: Mostly cloudy. Areas of fog in the morning…then patchy fog in the afternoon. Highs 40 to 45. Southeast wind 10 mph.